By Adam James
Would you love to see your care home featured positively on your local BBC or ITV news?
Do you want to know exactly how you can get BBC and ITV journalists to broadcast "good news" stories about your home WITHOUT having to do very much?
Here's my 6-step guide on how to do it:
1. Identify your home's "good news"
It's actually not as difficult as you may think to secure positive BBC or ITV media exposure for your care home.
But you must identify a good news 'story' that comes across well "on camera".
Remember, BBC and ITV television reporters are looking for visually compelling footage.
Here's one example.
The care home's story revolved around how, at the home, art was – literally – being brought 'to life' for residents with drawing classes using a semi-naked male model.
The classes, run in collaboration with a local artist, had secured Lottery funding and were designed to encourage therapeutic reminiscence by encouraging residents, particularly men, to think back to when their own bodies were fit and strong.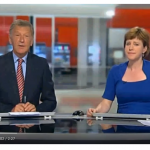 So, for the BBC, you had a number of story 'hooks', all of which would make powerful "on camera" footage.
Other example 'stories' from homes covered by the BBC or ITV include official openings, interesting fitness/physical activity classes, or the launch of innovative services.
2. Write up a hard-hitting story

Next, you must write approx. 300 words detailing the story to your target BBC and ITV journalists. It's best to write the story in full – as a news release – with quotes from appropriate people/staff.
Put as hard-hitting headline as you can on your release.
Write the news release in the body of an email, NEVER as a word attachment.
3. List who can be interviewed
List who would be available for interview, e.g.  care home manager, residents or family members. You should line up everything for the BBC or ITV journalist to make it easier for them to cover your story.
4. Target the right journalists
It's best to target the BBC and ITV production team or "planning" team. These are the "behind the scenes" editors who schedule in what their journalist colleagues will report on during any particular day. Get your news story in front of their eye balls, and you're in with a much better chance. Source email and phone details by calling up your local BBC and ITV office.
5. Follow up – and follow up
Always, always follow a media pitch via email and phone. At the minimum you should get confirmation that your target journalist has received your email. If all goes to plan, they'll liaise with you to organise a visit to your home to run the story.
6. NO media training needed

For "good news" stories about your home you do NOT need extensive media training ahead of being interviewed on camera.
Don't worry about coming across bad on camera, as the journalists will edit out anything that does not look 'clean'. I've seen this achieved successfully every time.
* Was this helpful? Would you like more advice?
* Get My Video On The 7 Vital Things Your Care Provider Must Do To Raise Its Reputation And Generate More Enquiries. Email hello@springup-pr.com