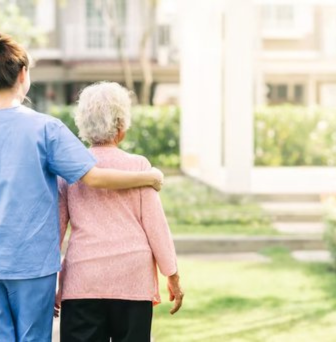 The UK care home market is witnessing a significant surge in recent years, and as of 2023 410,000 people live in care facilities, amounting to £15.9 billion in revenue per year.
Whether you're an investor, thinking of starting a care home business, or curious about this thriving industry, we delve into the rising tide of opportunities in the care home market.
Ageing population and increasing demand
One of the primary drivers of the care home market's growth is the ageing UK population.
The demographic shift towards older age groups, coupled with improvements in healthcare and longevity, has resulted in a larger proportion of seniors requiring specialised residential care.
Furthermore, evolving societal norms have led to a shift in family structures, with more families seeking professional care options for their elderly loved ones.
As a result, care homes have become a preferred choice for those seeking quality and comprehensive care services, so creating a robust market.
This increased demand for care homes presents an opportunity for investors and those wanting to own and run care provider businesses.
Rising care standards and enhanced care services
While the care home industry is forever transforming there is perennial focus on improving standards and high-quality  care.
Regulatory bodies, most particularly the Care Quality Commission, have introduced guidelines and regulations aiming to ensure the safety, well-being, and quality of care provided in care homes.
This shift aims not only to elevate the industry's reputation it has also presented opportunities for investors to contribute to the advancement and progress of care home services.
Innovations in care home design and delivery, digital technology integration, and specialised care programs have become key differentiators.
Care homes that offer personalised care plans, recreational activities, excellent food, and tailored amenities can attract discerning families seeking a high standard of living for their loved ones in their later years.
Entrepreneurs and care home owners who understand the evolving expectations of residents and their families can use such desires and opportunities to establish exceptional care homes..
Diverse investment avenues
The care home market offers a range of investment avenues – from options such as acquiring existing care homes, developing and modernising new facilities, to partnering with established operators. (see The Care CEO Success Stories podcast for examples)
Each investment approach comes with its own set of considerations, including location, market demand, operational costs, and regulatory compliance.
Additionally, the integration of technology in care home operations presents further opportunities.  Solutions such as remote health monitoring, electronic medical records, and digital communication platforms are transforming the care home experience.
Investors who identify and support innovative technology-driven care home initiatives can tap into a burgeoning market segment.
The care home market holds potential for investors and entrepreneurs. The combination of a growing ageing population, rising care standards, and diverse investment avenues make it a viable sector to explore.
And while the care home market does offer opportunities, often a marketing and PR strategy can assist care providers to capitalise on, in particular, the self-funding resident market.
Such marketing and PR strategies include:
Ensuring Good Brand Positioning: Using a care home marketing expert – or agency – can help you have strong positioning in what can be an extremely competitive local market.  This includes differentiating yourself from competitor providers.
Strong Online Presence: This includes an attractive website, comprehensive listings in care home directories, prominent social media engagement, Google Pay Per Click and Facebook Ad strategies, and digital and "traditional" PR. It's vital to use all available marketing opportunities to promote your homes to – and connect with – prospective families of residents.
Marketing Strategies With Good ROI: A care home marketing expert – or agency – should be able to help you identify and target your ideal prospective families, stakeholders or local authority "influencers", and secure more leads or enquiries at a good ROI (return on investment)
Reputation Management: The "word-of-mouth" reputation for any care provider or care home is crucial. Proactively, this can be achieved via an ongoing PR strategy. But a failure to address negative online reviews (e.g. on Google My Business or carehome.co.uk), respond to feedback in a timely and reasonable manner, and proactively enhance a care home's reputation can impact your credibility and so deter potential residents and families from considering your care homes.
Local Community Engagement And Networking: Community engagement plays a key role in the success of care homes. A care home marketing strategy that does not give community outreach and engagement strategies its due weight can miss out on valuable opportunities for partnerships, collaborations, and local networking.To both unlock the full potential of care home marketing and to avoid failures it is advisable to seek help from established and credible care home marketing experts or agencies.
Finding a trusted care home marketing partner with Springup PR
Springup PR helps care homes attract more enquiries via tailor-made data-driven PR and digital marketing strategies to fill beds faster, and we've worked with dozens of care business, from large groups to individual homes.
Founded in 2012 by Adam James, an award-winning journalist, we've helped care providers 10x their profile and "word of mouth" reputation, and increase enquiries by 300%.
Learn care home PR and marketing via our free resources
To grow your own care home PR and marketing knowledge take a look at our free resources, including videos, blogs, and our exclusive care home PR and marketing podcast.
If you'd like to learn from PR and marketing success stories from other care providers check out these case studies.
Some FAQs about care home marketing: