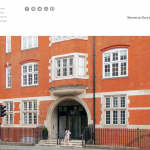 When a Birminghan architect approached us with a need to dramatically raise his profile both as an architect and an entrepreneur, we were delighted to assist.
The architect wanted his company  to be more visible to potential customers and his architect contemporaries –  so we put together a 3-month 'lift off PR' strategy to secure coverage in key architecture media and national publications.
Architect's 3-month 'lift off PR'  results:
Coverage in key architecture publications + national media, including:
*  Architects Journal
* Expert panel member for Building Products Magazine
* The Voice newspaper interview
The architect rated our 'lift-off PR' results as "five out of five" – "Superb! Great results! Extremely satisfied!," he said.
*Want similar results? Email Adam James – adamjames@springup-pr.com
* PR Knowledge is Power! Make sure you make the right PR decisions by getting our free guides on How To Secure National Media Coverage For Your Business + How To Choose A PR Agency. Details on website.
* Plus: Read what people say about us:
* Plus+: Beware – a PR horror story