Do you want to discover how one single care home used PR and marketing methods to help increase enquiries 300% over 6 months – and reach full occupancy for the first time ever?
Well, when a care home in Cumbria called us for help on getting more enquiries to help them fill their beds faster we first conducted a 'Diagnostics'.
Among the data sourced, this revealed the home was securing 2 enquiries per month.
So our 6-month PR and marketing 'success plan' to increase enquiries included:
*  Ongoing positive local media exposure to promote the quality of care at the home to local audiences
* Explosive Facebook engagement strategies focusing on building strategic relationship with stakeholders to boost the name and reputation of the home
* Supplying the home with a tailor-made email address of 300 local VIPs and 'influencers' for the home. This included commissioners, social workers, councilors, lawyers and GPS, with the aim of the home providing an e-shot to this list every 2 months.
Enquiries – increased 300%
During the course of the 6-month campaign enquiries to the home – called The Old Vicarage – shot up 300% to an average of 6 per month across local authority and private pays/self funders.
Within 9 months the home was full for the first time ever!
And here below is an itemized list of where all those enquiries originated from. (N.B. Recording the origins of enquiries is essential in understanding what works in your PR and marketing)
(1 –  GP, 1- newspaper article, 2 – unknown, 1- lived local, 3 – social services; 1 – internet,1 – lived local, 1 – referral for nursing home, 1 – County council list, 1 – cqc website, 3 – unknown – 2 – local knowledge, 1 – "local  lady"  1 – known the home for years, 1 – online , 2 – unknown; 2 –  carehome.co.uk,1 – internet, 1 – website, 1 – fetes, 1 – social worker 3 – unknown 2 – local authority)

Media exposure (including online): 
North West Evening Mail – circulation = 7,774 x 4 = 31,096 households
Westmorland Gazette – circulation = 17,724 x 4 = 70,896 households
Grange Now – circulation = 6,000 x 4 = 24,000 households
BBC Radio Cumbria – listeners = 73,000 x 1 = 73,000 listeners
The media stories all had key messaging that included quality of care at the home, its dementia expertise, its dedicated and caring staff, and innovative activities and events
Facebook reach:
* Total Facebook reach for accelerated engagements = 14,045,000 people (yes, you read that right – more than 14m)
* Facebook page likes increased 3,373% (234) to more than 8,000 people
'Good news' media stories
The 'good news' media stories, including for local BBC radio, we dug out for the home included:
Cheers all round for fashion fan Betty as she turns 100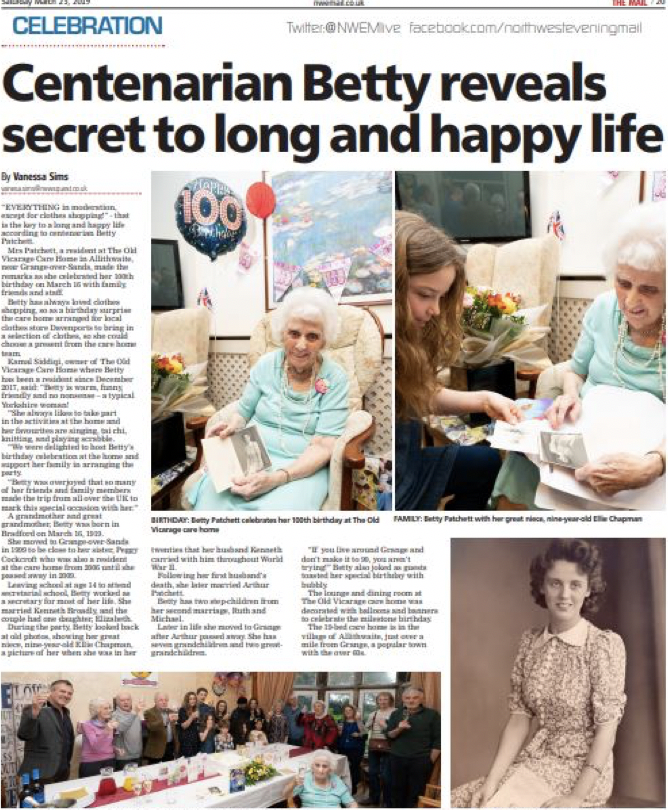 Charlotte –  an 'inspiration' after 20 years dedication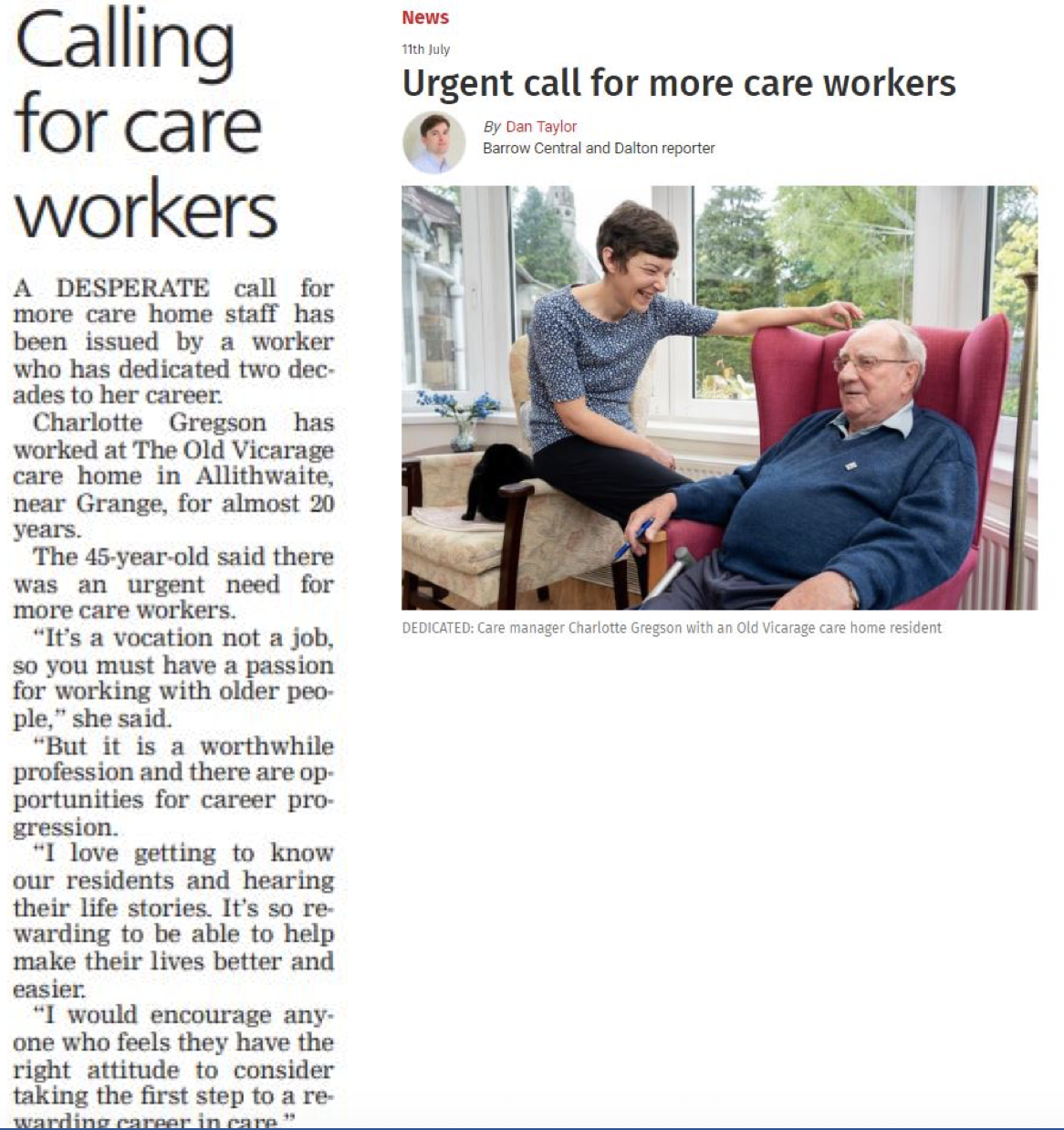 Allithwaite care home's Facebook post of staff in pyjamas goes viral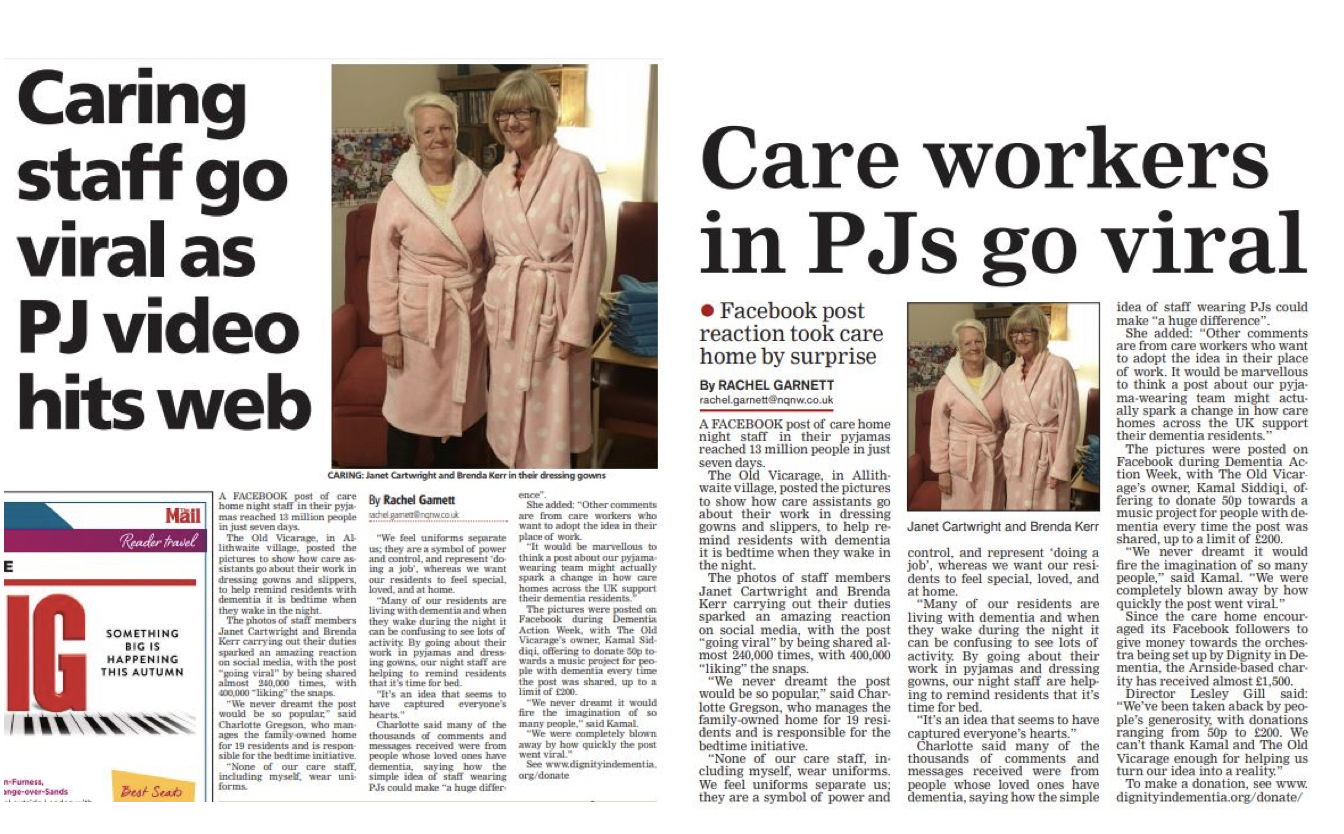 Ponies 'trigger' memories for care home resident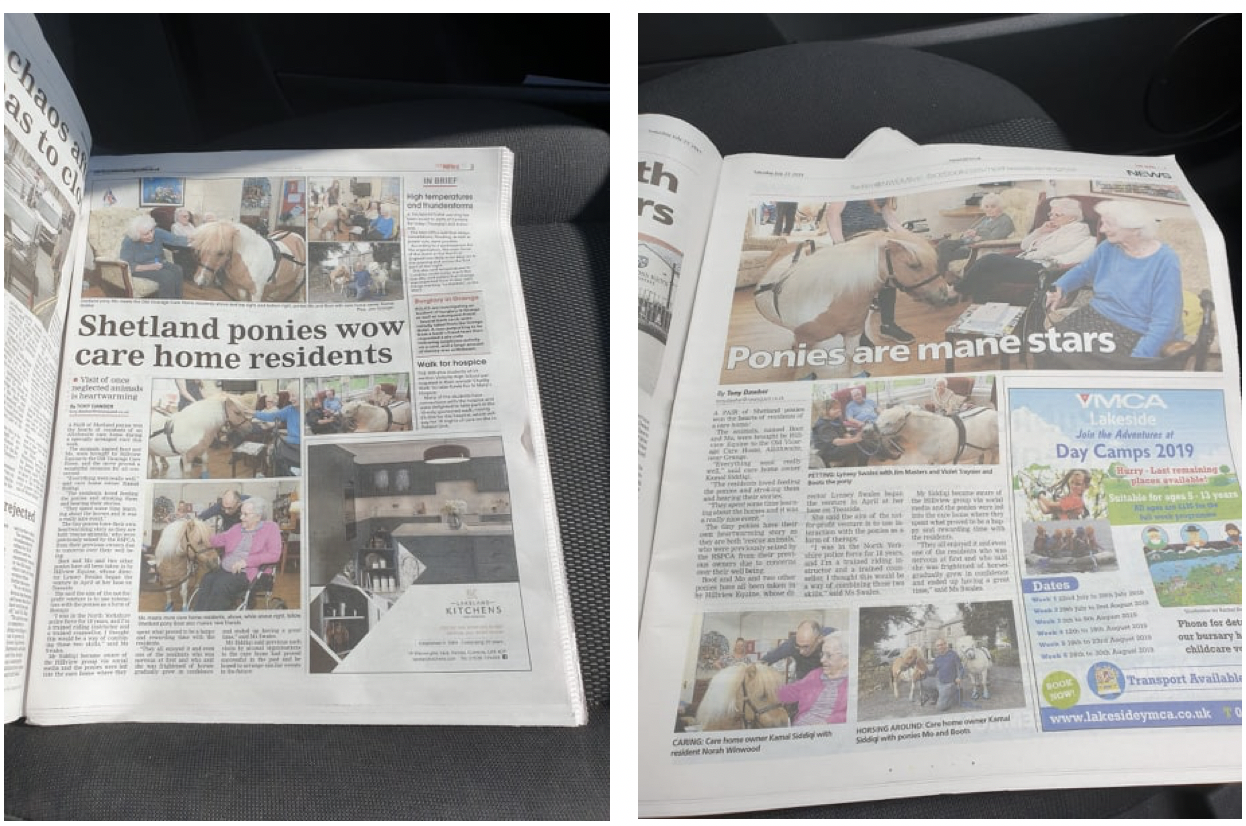 4 x Facebook 'Accelerated Engagement' 


i) Accelerated engagement: Mother's Day Afternoon Tea for Two competition
 * 10,540 people reached during the 10 days
* Majority were non-fans of Facebook page, so introducing the home to a new audience in the area
* 98 new followers of the Facebook page – increase of 36%
* 166 likes, 101 comments and 132 of the main competition post
 ii) Accelerated engagement: Dementia Action Week
 * Our initial target was to reach 30,000 people, to say we smashed this would be an understatement! The campaign reached over 14 million people
* The post promoting the night staff wearing 'dementia friendly' nightwear went viral and reached 13.8 million people
* Thanks to the boost in engagement from the viral post, the other posts reached almost 300,000 people
* 5,050 new followers of The Old Vicarage Facebook page – plus an additional 3,077 followers since
* The viral post received 432,000 reactions, 51,000 comments and 236,000 shares
iii) Accelerated engagement: Where in Grange is this?
* 34,400 people reached during the 10 days
* Majority were non-fans of the page, the campaign was aimed at people in the Grange area, introducing the home to a new targeted audience
* 94 new followers of the Facebook page
* 683 people entered the competition
Finally…..
The home has been shortlisted for Best Marketing Strategy in the inCumbria Awards 2019….
* Get Free Video On 7 PR and Marketing Things You Must Do To Fill Your Care Or Nursing Home Beds Faster[/fusion_text][/fusion_builder_column][/fusion_builder_row][/fusion_builder_container]