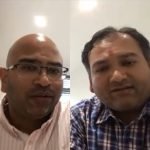 This episode of the Care Home PR And Marketing podcast features Nimesh and Pritesh Patel of 2-home operator Prime Residential Care.
They tell their story of how they purchased their first care home without previous experience in the sector, and ended up having the "toughest times" of their lives after a combination of bereavement and occupancy drop.
But through hard work and dedication to providing a first-class care home service to families they got back on track, and went on to use a PR and marketing strategy to get more enquiries and increase occupancy for their two homes.
It includes
How Nimesh and Pritesh come from a retail background but had family familiar with the care sector.
How they decided to purchase their first care home, Glebe House, in June 2017, but just ahead of the planned purchase date the home dropped to "requires improvement".
Why the bank nevertheless decided to support Nimesh and Pritesh in the purchase of Glebe House.
How it was a "rollercoaster ride" in running Glebe House at first, but how they secured a turnaround within 6 months to become a CQC "good" home.
How occupancy at Glebe House dropped following the requires improvement status, but nevertheless they purchased their second home, Down Hall in March, 2019, and why this ended up being "the toughest time" of their lives.
The "phenomenal" role of PR and marketing in helping increase enquiries and occupancy at both homes. Including massive media exposure.
The importance of steady and ongoing promotion of care homes to "put your good news out there" and how Facebook generates enquiries
The values, including respect for elders, that Nimesh and Pritesh bring to running a care operator, and the value of pure hard work!
What it takes to run a successful care operator
Why their background experience of providing good customer service was vital
Get Free Video On 7 Vital – And Proven – PR And Marketing Things You Must Do To Get More Enquiries And Fill Your Care Or Nursing Home Beds Faster