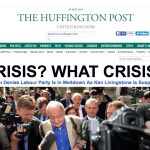 Are you an ambitious company pursuing growth and new customers?
If so, it's a big help if your, CEO, founder, chair or senior executive has an impactful online presence.
Think of the lead player in your industry. I bet s/he is a name you see in the media.
One sure-fire method in the journey to raise your profile in online media, and to impress prospect customers (who 'google' you or your company) is to be able to market yourself as a Huffington Post blogger.
So here's my guide on just how to do it – weaving in the real-life example of how we helped the CEO of a London architecture firm become a Huff Post blogger.
The first essential is to research the Huffington Post thoroughly ahead of making a pitch.
The Huff Post has an ever-growing plethora of sections (the US Huff Post even has a 'divorce editor') and, for our architect, we had to examine forensically what the Huff Post had covered previously on architecture.
The one cardinal sin of Huff Post pitching is to repeat an 'angle' one of its bloggers or journalists has written about relatively recently (two years). This is a dumbo mistake. Avoid it.
Now – for our architect – it so happened there were zilch other Huff Post architect bloggers. This gave us a collective shiver of PR excitement, because it gave us a head start.
A second essential is that your blog pitch has a razor-sharp 'angle'.
Remember it's your opinion the Huff Post wants.
So, if you're the CEO of a high tech company, it's no use saying 'I'll write something about disruptive technology'. This proposal is doomed by its vagueness. It won't get a look-in.
However, were you to pitch "5 reasons Why Uber Is The World's Most Disruptive Company" you'd be upping your chances of getting a commission.
It's also important to remember that the Huffington Post readership is the general public (approx 120 million per month of them) so there's no room to be hyper-niche or industry-niche.
So – back to our architect – we'd be veering uncomfortably to industry-niche if we pitched a blog on "Why The London Shard Exemplifies Energy-efficient Architecture".
However, if we pitched for her (as we did) to write an authoritative piece on "What Are Britain's 10 Most Inspiring Buildings" and an historical tour de force of the best-ever British architecture, that's markedly stronger.
Indeed, from our research, the Huff Post had never covered this 'angle', so we were confident we would hit the bullseye.
The third essential is to make sure your pitch is short and sweet, and hits a journalist's sweet-spot. What this means is that you produce the kind of headline for your proposed blog that the target journalist his/herself would write (It's about 'getting into the head' of your target journalist)
How we like to pitch all expert-opinion pieces is to start off with a one or two sentence personal message to the target journalist/editor and, then detail the pitch itself conveying – in bullet points – what the proposed blog will cover.
It's always useful to state your blog will be 'authoritative' and 'objective' as by including excessive 'marketing speak' will quickly send it to The Huffington Post's version of Hades.
(N.B. By the way, all of the above is written on the assumption that your target Huff Post journalist is not one of your key personal contacts. If so, it's a different story)
The fourth essential is to make sure you "big up" the biography of your proposed author. Again, use bullet points, not sleep-inducing verbiage.
But, I stress, when "bigging up" your proposed author, stick to the facts. Don't describe your CEO as one of the "UK's Top 5 Technology Entrepreneurs" if you can't support this with evidence.
For our architect the bonus was she had an impressive bio.
The fifth essential is to follow-up your email pitch. Truth be told is that Huff Post journalists/editors are mightily hard to get hold of over the phone, but you may strike lucky.
If we think we've got a truly compelling pitch I'll instruct my colleagues "to follow up to the death". That means following up until they get a 'yeah or nay' on their pitch.
So, do all the above, and you're well on your way to getting commissioned to write a Huff Post blog, and securing a place on its blogging roster.
As our architect did. You can read her Huff Post blog here:
Adam James
www.springup-pr.com
Tel: 02036370091