* By Adam James, founder of Springup PR
Do you want at least 100 guests at a special event at your care home?
Whether it's an official opening, open day or special dementia study day there's a set way of going about it you must follow to make the event an all-out sell-out success.
Here's how:
* People, especially busy professionals, VIPS, MPs, councillors, local authority commissioners etc, stakeholders, need an enticement to attend any event, and to get them out of their office. An "official opening" at your home may not be enough.
So, think of booking a celebrity to draw people in. Celebs can cost anything from £250 to £15,000 for attending a few hours and making a speech.
But a celeb of some variety will bring in crowds. And that's what you want. Without such a key attraction, you're going to find it harder to "sell" the event and entice guests, especially priority guests, to attend.
* Create an event plan, with budget, and stick to it. Have attention to detail. Delegate responsibilities for the day, and ensure who knows what exactly they'll be doing.
* Collate an email database of approximately ten times more than desired guests. So, you want 60 guests? Your email database must have 1000 email addresses, complete with first and second name, and telephone number.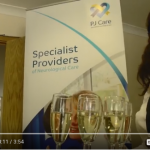 * Email guests an "exclusive invitation". And follow up invitations via telephone. Use the free version of Mailchimp, for example, as an email distribution system.
* Include key local journalists/editors on your invitation list. Do your utmost to make sure they attend, as it will help generate solid media exposure and PR results for your home.
* Run a unique social media initiative, such as Facebook competition, to "build up" interest in your event. Get staff and resident family members to participate.
* A photographer, to capture the spirit of the day and for marketing/PR purposes, is a must. A videographer to create a dynamic upbeat video is even better.
Be diligent and thorough in your organization, and you'll have an ultra-successful event that hits its guest list number, generates publicity, and helps bring in referrals.
Just like this one, starring Tony Robinson, which we helped organize, and brought in 150 guests for an official opening.
Want an event at your care home? Just call or email us to have a chat.