T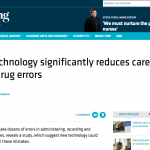 echnology company Invatech Health, approached us for PR support for the launch of research demonstrating the benefits of their medicine management technology for care homes.
Invatech's Proactive Care System (PCS) can save care home staff time, improve patient safety and make substantial savings on drugs costs for care home residents by cutting wastage.
As part of their marketing and brand strategy, Invatech wanted us to secure exposure for PCS in the care sector media, read by their target audience and customers.
When working with industry media, such as the care sector, it's vital to ensure you don't pitch 'stories' that may be regarded as product marketing.  They'll just get binned.
So we 'nosed' the story on the findings of university-supported research and the risk to safety of standard paper-based medicine management systems used by care home staff.
Taking the  headline of – "Errors in care home medicine management virtually eradicated by new technology, research reveals" gave us a cracking data-driven story we knew the care sector media would devour.
Indeed, it did.
We achieved four strong pieces of coverage and identified an additional two opportunities for case-study based features.
Plus, it was a lead news story on the carehome.co.uk e-newsletter distributed to tens of thousands of care sector professionals.
The added bonus was a string of sales leads for PCS as a direct result of the significant spread of media and online exposure.
Plus, having identified key delegates at a research symposium at Cardiff University we provided Invatech Health with collateral for future marketing activity.
RESULTS:
* Coverage secure in key care sector publications and websites
* Full-page feature in the Nursing Times and website
* Coverage in careindustrynews.co.uk and carehome.co.uk
* Sales leads generated