"We're £25,000 up per month at my care home compared to last year – and that's all through publicity" is what care home owner Jonathan Cunningham told this year's Care Home Show in Birmingham.
Jonathan was speaking with Adam James of Springup PR on "Filling Beds Faster And Keeping Them Filled", and he shared how he used PR and marketing methods to get more private-pay residents .
"I've been following Adam for about 2 years – he has golden gems of PR and marketing tips," Jonathon told delegates.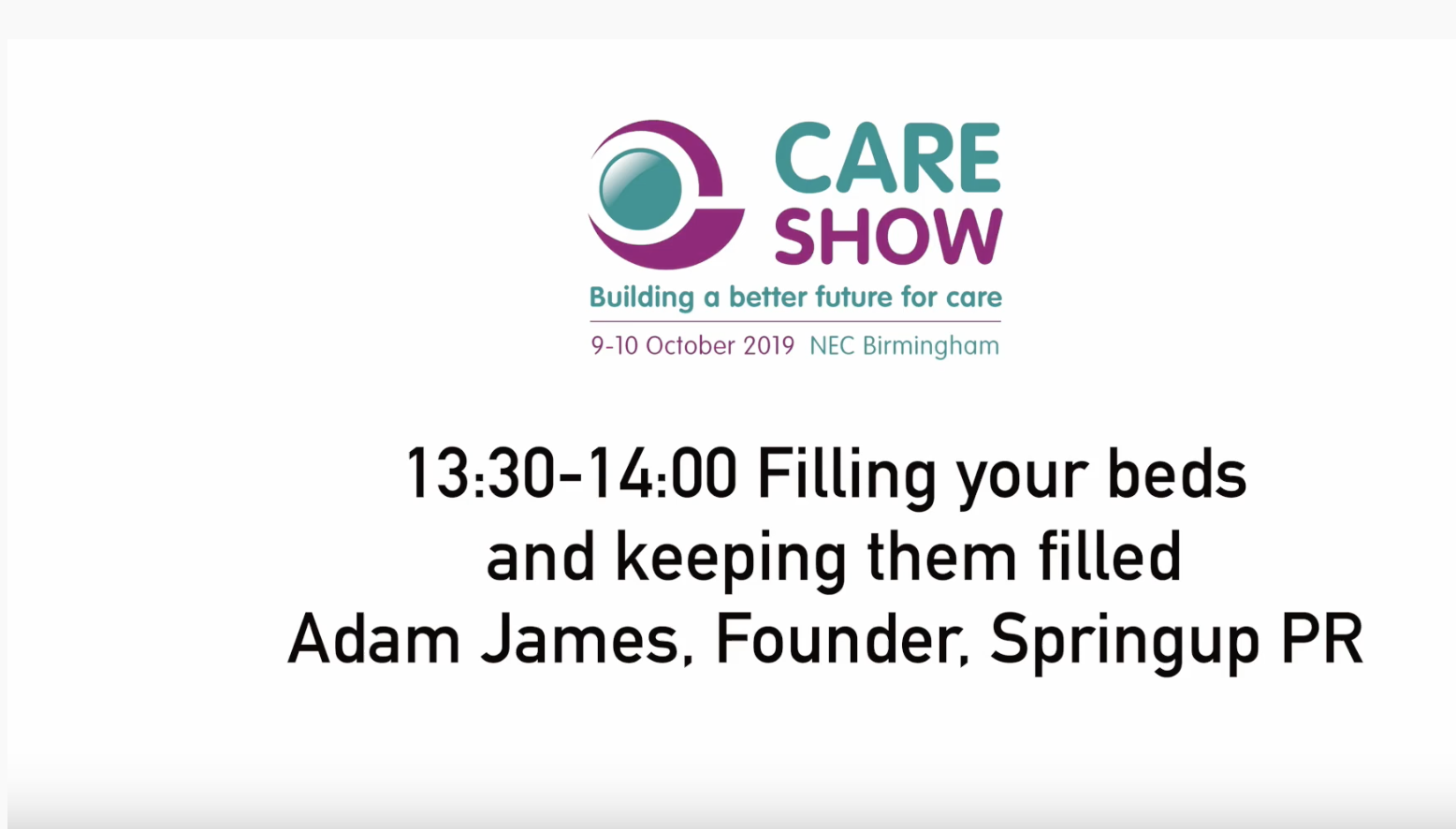 "Following Adam's advice, I started routinely writing 200 – 250 word stories to journalists with up to about three photos with captions
"To give you an idea of how successful it's been – we've had 8 or 9 private residents, meaning we've now 17 private residents in the same home.
"It means the fees we can command are significantly higher.
"The turnover– per calendar month – is now £20,000-£25,000 greater than it was a year ago – and that's all through publicity.
"So we are continually broadcasting, and people are now inbound contacting me via Facebook or they phone direct, and they are fee-paying privates – so this stuff does work, and it takes time"
The video from the Care Home Show also reveals:
* Why journalists love 😍 care homes
* Why every care home should be able to secure from 12-18 positive pieces of media exposure per year
* How to pitch you care home stories to journalists – and how not to
* Why photos are VITAL
* How one care home Facebook post went viral – reaching 14m people (yes, you read that right)
* How Facebook advertising can help spread good news stories about your home
* Get Free Video On 7 PR and Marketing Things You Must Do To Fill Your Care Or Nursing Home Beds Faster