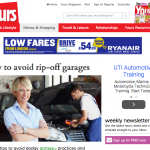 FOXY Lady Drivers Club asked us to assist them in their PR efforts to target women drivers.
Very soon after we started working with FOXY Lady Drivers Club, founded by Steph Savill, we learnt Steph was set to win a prestigious accolade for her "outstanding contribution" to the motoring industry.
For more than a decade Steph had been campaigning to make the motor industry more female-friendly.
She had launched the UK's only motoring association for women, the FOXY Lady Drivers Club, in 2004 to achieve higher quality standards in UK garages and car dealerships.
Steph's achievements had been acknowledged by the UK's leading professional automotive body, the Institute of the Motor Industry.
In light of this newsworthy development Springup PR put together an eye-catching news release and distributed to our contacts and media list.
For this single PR initiative we gave Foxy Lady Drivers Club our exclusive "Guaranteed Results" PR offer.
Results: Coverage secured in B2B, regional and national online women's consumer media:
* BBC Oxford radio interview
* 2 x regional media coverage
* Steph Savill advice column at www.yours.co.uk.
* Industry coverage at The Institute of Automotive Engineer Assessors + Body Shop Magazine