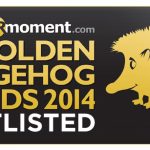 Springup PR was delighted to have been shortlisted for one of the PR industry's most prestigious accolades as a "New PR Agency of the Year."
Springup PR was one of four 2014 finalists for the South region, which includes the whole of London and the Midlands, in the Golden Hedgehog PR Awards.
The awards celebrated "excellence and recognise and reward outstanding campaigns and exceptional talent in the PR and communications industry."
Award judges included Colin Byrne, CEO, Weber Shandwick EMEA, Louise Cooper, Senior Manager, Corporate, Digital & Branch PR, John Lewis, and Francis Ingham, Chief Executive, PRCA.
"This shortlisting is a validation of the vision of Springup PR – that an agency run by former journalists is the most effective way to bring in big outcomes for clients," said PR director Adam James.
"We feel we have made a big impact since we  launched in 2012, and this shortlist nomination proves it."
Springup PR's entry for the awards featured campaigns it has carried out for some pioneering clients, including the UK's first-ever garage franchise iAutoUK, and specialist care providers Brookdale Care and PJ Care.
"For our entry we had to details the aims and results achieved for our clients, and we are glad it made such an impression on the award judges. We are also chuffed to have beaten off agencies from all over London and the South to be one of four South finalists."
Springup PR executive Bryan Jones worked on all three accounts.
"Many congratulations go to Bryan. He's done some fabulous work," said Adam.
The PRmoment.com Golden Hedgehog awards was run conjunction with the PRCA, the UK PR industry's trade body, and the eventual winner, Elephant Communications, was announced on March 20.
 * Why not have a FREE no-obligation PR audit?