Do you want more enquiries from self-funding families to your care homes to increase occupancy faster, and so increase revenue faster?
A marketing and PR campaign agreed by your senior operational and care team will put you one step ahead of other homes in your catchment area in getting noticed by prospective families looking for a care home for their loved one.
And a clearly-defined campaign is all the more important in light of the fact that every care home will likely have intense, and increasing, competition from other homes.
If so, what is the best marketing strategy to best achieve this?
There are 11 essentials to decide on when devising such a plan:
1) PR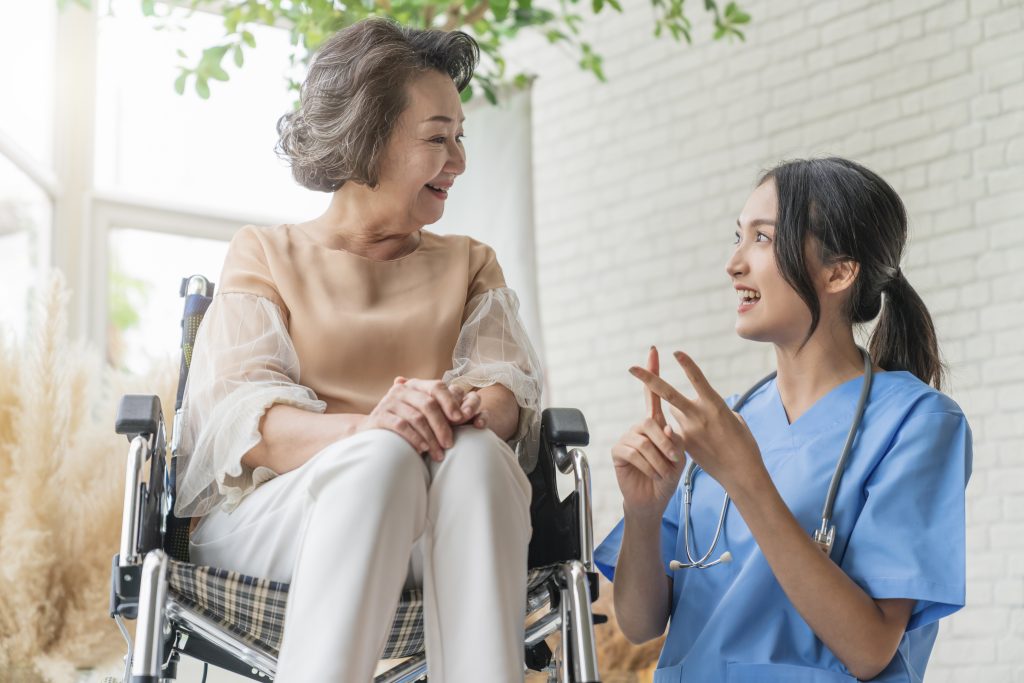 I once asked care homes on a Linkedin poll what they consider the most impactful marketing initiative to help them, in the long term, to secure more enquiries.
"Positive PR" was the majority answer.
For care homes ongoing positive PR (showcasing good news) is an over-arching key to increasing their profile to local communities and families.
Also known as "amplifying" the "word-of-mouth" reputation of care homes, such positive PR can be best secured via ongoing media exposure (regional papers, online, TV and radio) and digital PR such as Facebook "boosts" and "accelerated engagements" to reach 100s of thousands of people within care home catchment areas.
It is regional media that is usually the most appropriate target media for individual care homes.
And whoever handles your PR should be able to (i) proactively find strong stories that journalists will use (i) write and pitch these stories to the media and, vitally (iii) follow up doggedly with journalists to get the story published or broadcast.
Springup PR, for example, uses a unique "media insider method" to help care homes secure regular and ongoing press coverage, with hit rates of coverage in target media of more than 90%.
Moreover, it is to your advantage that regional media journalists do look favourably on positive care home stories.
This is because care homes are, of course, looking after the nation's elderly, and are by default experts in dementia care.
This holds high public and health interest, and hence of interest to journalists whose role is to report on such public affairs.
For those care homes with a robust PR strategy families will often report they would have read the care home in the press or seen them on TV news.
* Watch Care Homes Who Successfully Use PR As Part Of Their Care Home Marketing Strategy: Oakland Care and Prime Residential
* Webinar: How To Get Guaranteed Ongoing Positive PR For Your Care Homes
2) Google Ads (Google PPC)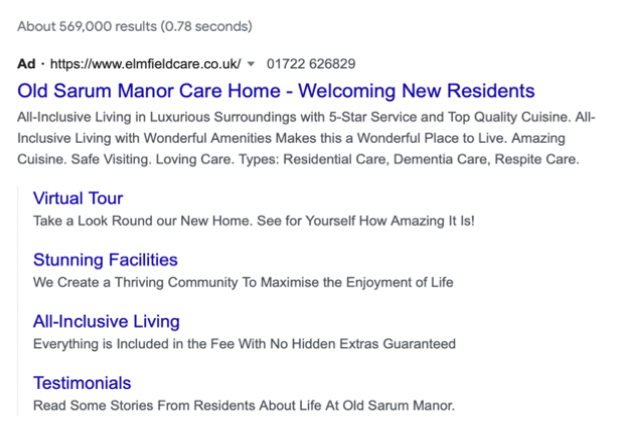 Google Ads, or Google Pay Per Click is the leading care home digital marketing strategy to get more leads and enquiries from families searching for a care home.
Research by Lottie found 94% of families search online, particularly Google, during the course of looking for a care home for their loved one.
This is why Google PPC is the most effective "intent marketing" medium.
The hard truth is that unless you are a SEO wizard, your home will not be in the first 3 listings for hundreds of key phrase searches made by families looking for homes in your catchment area.
But Google Ads do guarantee your care home to be at the top of Google, under "sponsored" listings, from such key phrase searches.
If optimized correctly – and with vigorous tracking – Google PPC ads can be part of a strategy to increase enquiries by 300% with a massive upturn on occupancy.
However, to run successful Google PPC ads you must run dozens if not hundreds of campaigns and ads to discover which work most effectively, plus you must concentrate on ongoing "optimisataion" of your ads.
Moreover, you should continually update your "negative keywords" list to ensure your ad budget is not wasted on irrelevant search phrase clicks.
* Google PPC care home success story – Broughton House Successfully Used Google PPC As Part Of Their Care Home Digital Marketing Strategy To Increase Enquiries By 300%
* Video – "The ultimate guide on using Google Pay-Per-Click to get more enquiries from families looking for care homes in your area"
* Video – 12 Google Ad Metrics Care Homes Must Know To Get More Enquiries
3) Website Live Chat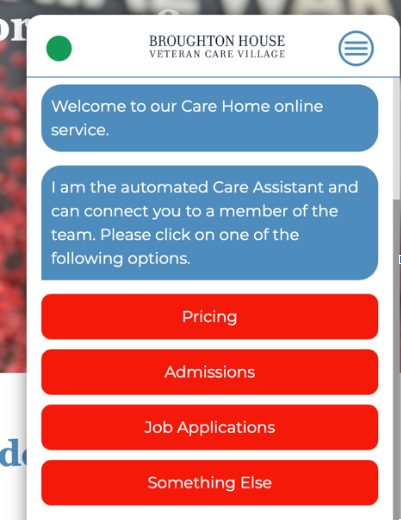 Once you're driving more prospective families to your care home website via Google Ads (as above) it makes a marked difference to have a live chat function.
Such live chat preferably combines real person and automation (to handle, for example, job enquiries)
A 24-7 live chat function provides families with a method to initiate a conversation with your care home that is often easier and quicker than email or phone.
Once a Live chat is activated, your home will get immediate alerts so enabling your team to engage real-time with families and other enquiries.
And if no one from team is available the team behind your Live Chat will, after having agreed a script with you, take the enquiry on your behalf.
If you combine Live Chat with effective Google PPC it will almost certainly result in a significant uplift in enquiries.
4) Facebook Ads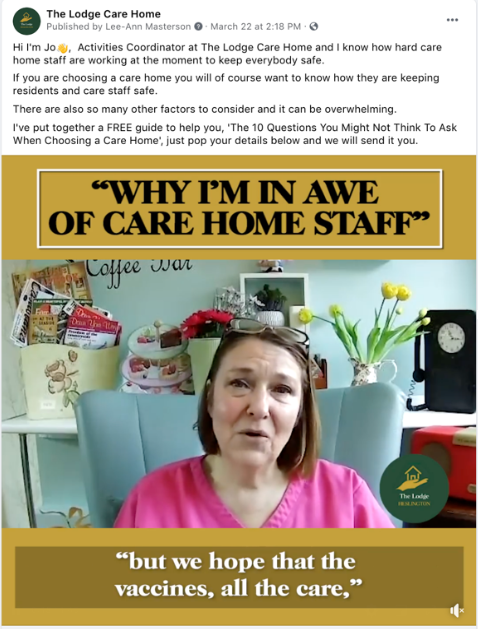 The unique strength of Facebook Ads is enabling your care home to target prospective families and their relatives by age, sex, interests, and locality, (e.g. a 20mile radius of your home).
Facebook's algorithm will, in addition, assist in making your ads reach families.
You should make your Facebook Ads copy appealing and include eye-catching and photos, and often video.
Your ads should also have "call to actions" such as a brochure download or an option to "learn more".
We recommend care homes use Facebook "lead forms" in their ads to capture the name, email and phone number of families, and you should continually both re-invent and tweak ads to attract the best "cost per click" and "cost per lead" rates.
Importantly, however, because Facebook ads provide you with "leads" not "enquiries" it's imperative you follow up all leads vigorously via email, phone and text.
This will enable you to qualify these leads by finding out why they are seeking care, who they are seeking care for, and whether it's respite or full-time care they are most interested in.
* Facebook Ads care home success story – Broughton House Successfully Used Facebook Ads As Part Of Their Care Home Digital Marketing Strategy To Increase Enquiries By 300%
* Video – What's the difference between Google And Facebook Ads? 
* Video – How Facebook will get your care home leads in 6 hours
5) Website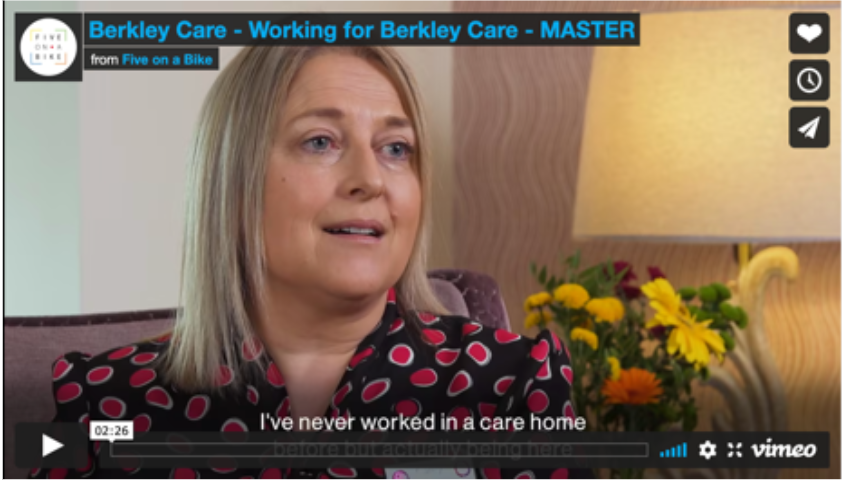 It's not much use getting more families to your website if it's is not suitably impressing them so they make an enquiry.
So here's some essentials for your website. i) Have contemporary branding (nothing worse than looking shabby or out of date) ii) Display family testimonials on every page of your site (to help convey trust, vital for any care home) iii) Have updated blogs and/or news sections iii) Include personalised messages, including video messages, from your care home manager iv) Have options for "lead capture" e.g. brochure or guide downloads, such as "The Ultimate Guide To Choosing a Care home" v) Include up-beat engaging photos vi) Have a pop-up live chat facility.
6) SEO and online directories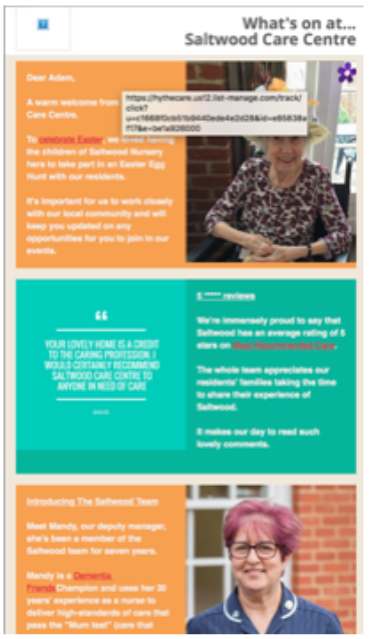 When it comes to SEO (search engine optimisation) care home directories, such as carehome.co.uk, Lottie and Autumna have largely monopolised No 1 listings on google organic search.
So definitely have your care homes listed on most, if not all of, these directories.
Here's additional care home SEO tips:
(i) have a "Google My Business" profile updated with photos and full contact details. Plus positive Google reviews from families do make a difference. (Likewise, be systematic in getting carehome.co.uk reviews)
ii) publish your care home news stories on bdaily.co.uk as this will enable you to secure "Google News" listings which is increasingly important as families are ever more discerning and will likely check out your care home on "Google News" to find out what the media has published about your care home.
iv) If you do a blog include relevant key phrase searches (e.g care home in [your area]) used by prospective families.
7) E-shots
E-shots enable you to communicate not only with prospective families, but also "influencers" e.g. journalists, local dementia charity members, or referrers to your care home such as commissioners social workers, GPs, district nurses and hospital discharge team members.
Importantly your e-shots should not be "salesy" or full of marketing but celebrating the positive news from your care homes. E-shot content can include your best Facebook and PR stories and testimonials.
You can distribute your e-shots via Mailchimp, which enables you to personalise emails You will be able to track who opens and clicks on of e-shots you send out.
8) Community Networking
Networking with local stakeholders is part of a community engagement element of your marketing strategy.
This includes building relationships with local dementia and elderly charities, your GP surgeries, social workers and organizing open days or special events.
9) Leaflet drops.

40% of care homes reported leads and enquiries generated from leaflets drops to homes in their catchment area.
If you do leaflet drops have a trackable phone number or dedicated contact email so you can record how many enquiries you get per 1000 leaflet drops.
10) Events.
While events such as fetes and open days may be superb for residents and their families, if you want dozens, perhaps 100s, of stakeholders or influencers from your local communities to visit your care home, perhaps for the first time, you will need to do organize something more special or tailor-made.
One fabulous example we have helped care homes with is to organize an antiques valuation by Charles Hanson (star of BBC TV programmes such as 'Flog It' and 'Bargain Hunt') at your home.
You can send out exclusive invites, and e-pack with official invitations, using a database of guests to invite.
11) Ads in magazines or radio
Traditional adverts in magazines, or the radio are used, and you can strike excellent ad deals with both mediums.
Once again, best to use a phone number of email where you can track responses to your ads, to calculate your ROI.
Navigating your queries: FAQs on care home marketing campaigns