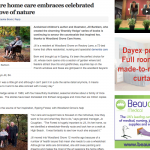 By Adam James, founder of Springup PR
Are you worried whether or not a PR agency is up to the job and can secure desired results?
Do you like the idea of "testing out" a PR agency before committing to a longer-term relationship?
I  totally understand this, and I've been approached by companies who've been stung by rotten PR agency experiences.
So when a UK luxury care home provider, who'd never used a PR agency before, came to us with these doubts, we were determined to re-assure them.
And what better way to do this than offering the group, which operates two homes, our globally-exclusive one-off "guaranteed results" package.
The provider wanted us to raise the profile of their home in Loughton, Essex. so my colleague Lisa and I set about discovering the strongest 'story' to engage a local audience (and prospective new residents).
We took great effort to understand the home, the level of care it offers and lifestyle of residents
Through conversations with the home manager, we discovered that former children's author, Jill Barklem, who created and illustrated the much-loved Brambly Hedge stories, had been a resident at their Essex home for 12 months, and that the home's staff go to great lengths to support her continued love of wildlife and art.
We knew we had a big-impact headline for regional media – "Woodland Grove Care Home embraces celebrated author's love of nature"
Our media pitch focused on a trip for Jill back to her beloved Epping Forest.  Some fabulous editorial photography captured both the joy of the visit and the relationship between Jill and staff.
We also highlighted the home's understanding of Jill's passion for art and nature.  Jill, whose garden room allowed her to enjoy the birds on a daily basis, also made the most of the home's art sessions.
After we pitched the story to regional media, we achieved tremendously positive coverage in key local media and a county-wide news website, as well as care industry media.  It was also covered in an independent care provider's blog.
Our results instilled the desired trust and confidence from the provider, Oakland Primecare, and we now regularly help them secure positive media exposure and PR results.
RESULTS:
– Coverage in both regional/online media and sector media
– High visibility among potential new family customers
– Reputation building with coverage in careindustrynews.co.uk and carehome.co.uk
* More on Springup PR's guaranteed results package
* We're care PR experts